Charter
: Illuminierte Urkunden 1435-02-20_Heiligenkreuz
Signature
: 1435-02-20_Heiligenkreuz
Das
Konzil von

Basel
bestätigt dem
Zisterzienserorden
alle Rechte, Besitzungen und guten Gewohnheiten.
Source Regest: FWF Projekt P 26706-G21 "Illuminierte Urkunden"
Bearbeitungsstand: HOCH
Original
Current repository
: 
Heiligenkreuz,
Stiftsarchiv,
sub dato
Seal
: 
Bleibulle
Material: Pergament
Graphics: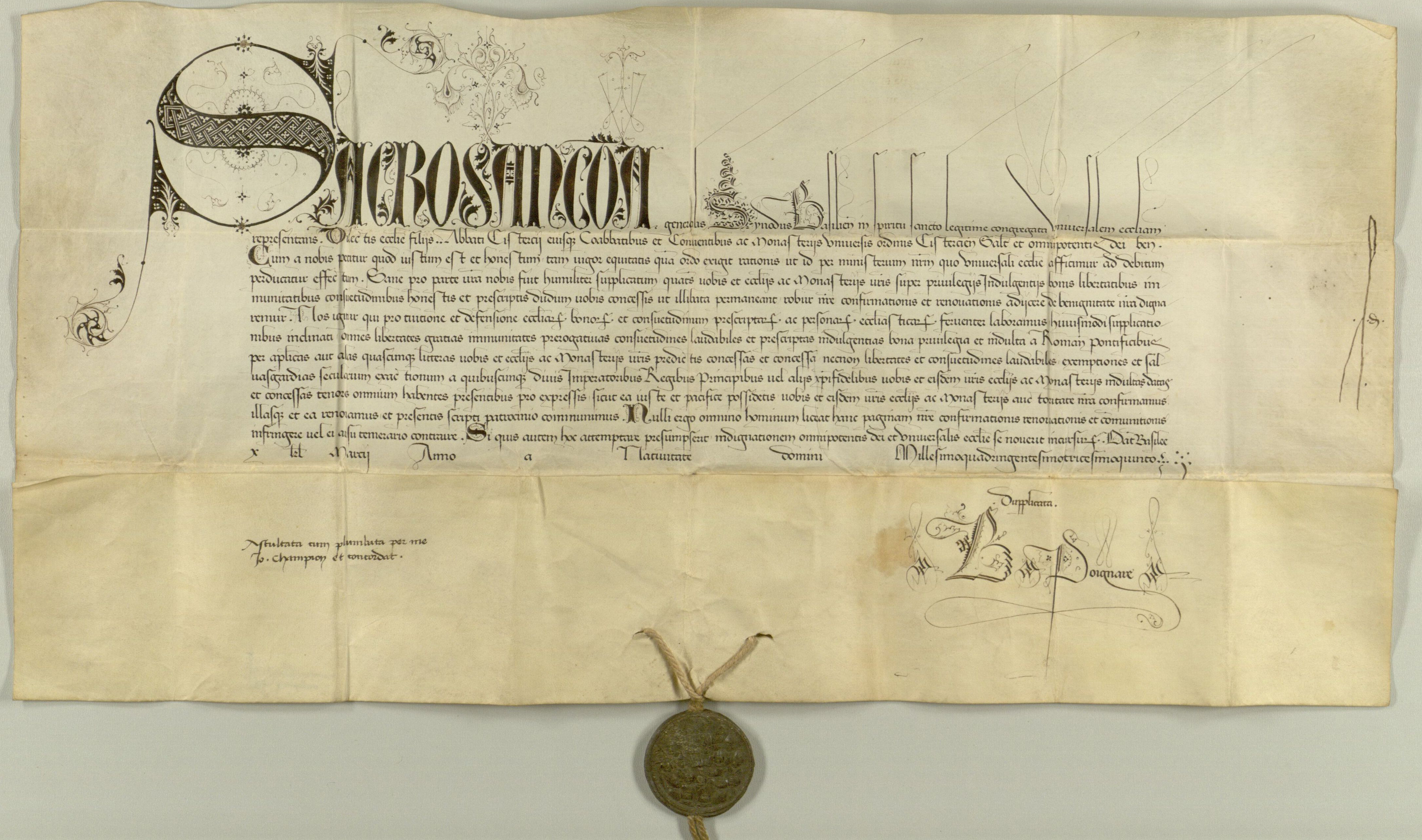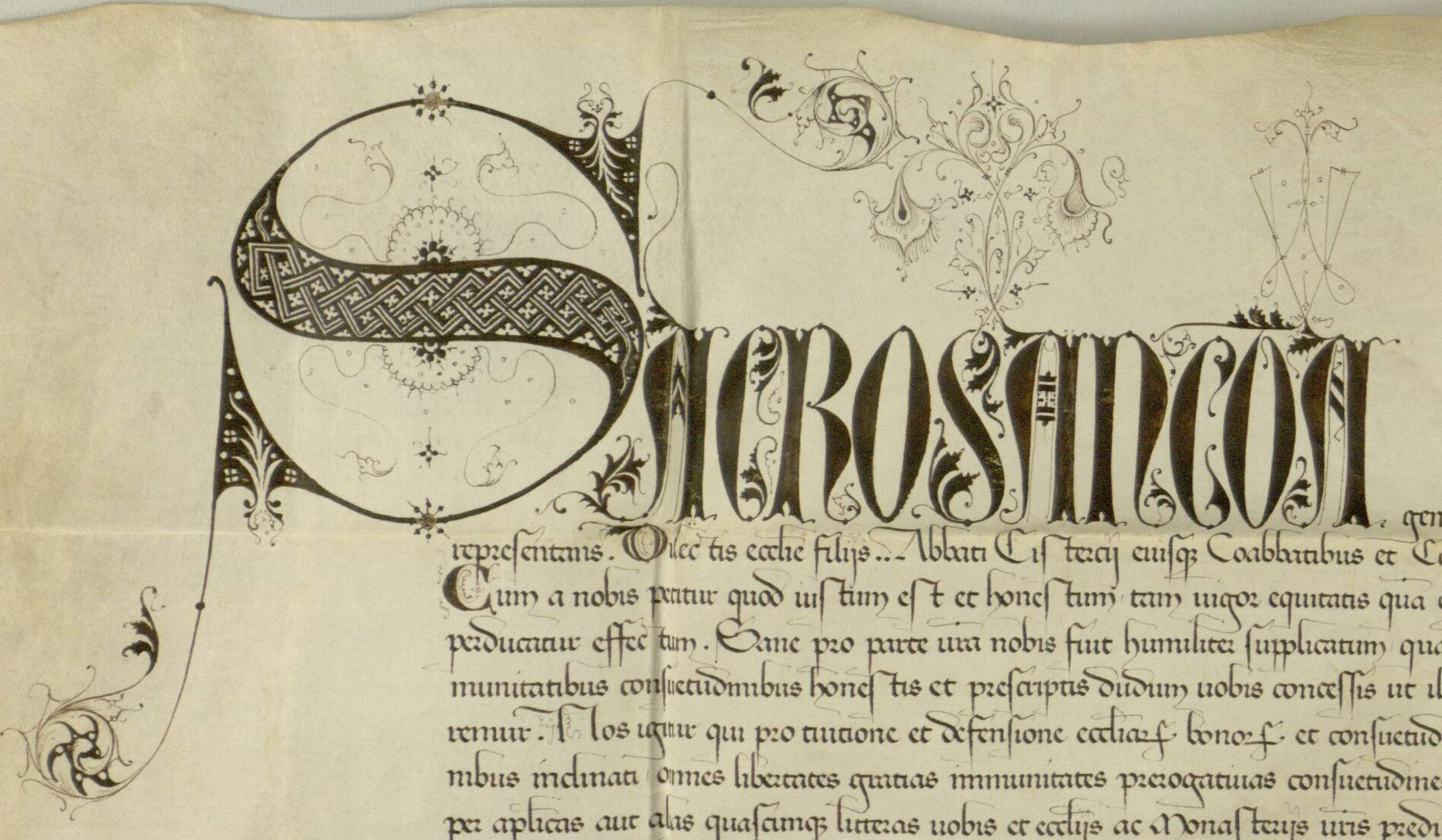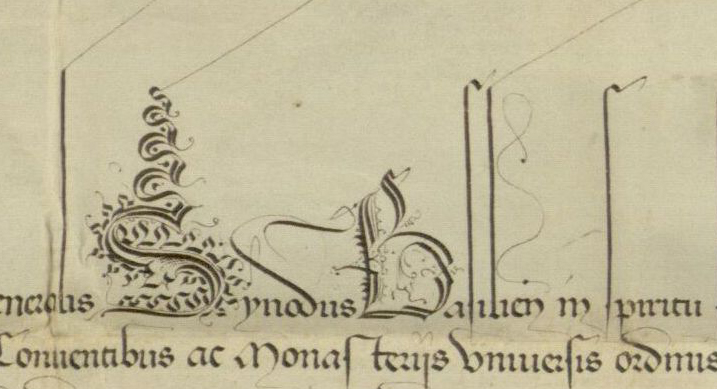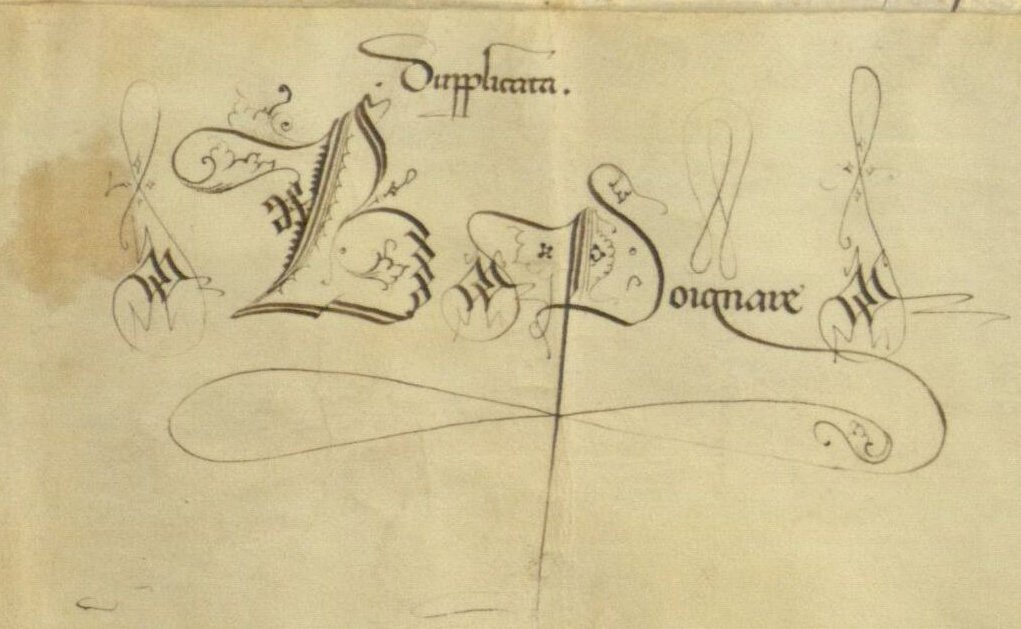 x
Materielle Beschreibung: 


Aufwendig ausgestattete Littera cum filo serico mit Initiale S(acrosancta) mit üppigen vor allem geometrischen Aussparungen und floral-graphischem Dekor im Binnenfeld und Fadenranken im Umfeld, mit dem den Papstnamen ersetzenden Incipit in Zierschrift, die Lombarden-Formen verändert und mit vollfarbigen kleinen Blattausläufern bereichert, mit Cadellen bei S(ynodus) und B(asilien[sis] in der ersten Zeile. Über der Zierschrift üppige Fadenranke mit phantasievollen Blattformen. Graphisch ausgestalteter Skriptorenvermerk auf der Plica.

Stil und Einordnung: 


Zum Skriptor Bartholomäus Poignare siehe ausführlich Roland, Konzil von Basel, 2019, S.188-195 (mit Verweisen auf ältere Literatur). Er war zuerst Sänger in der Kapelle Papst Martins V. und ist ab Februar 1435 als Skriptor des Konzils belegt (Roland, S. 190: eine hier genannte Urkunde von 1434 Dember 19 wurde nicht von Poignare geschrieben). Zu einem wohl von ihm mundierten Urkunde Kaiser Sigismunds siehe bei 1433 August 8.
Die stilistischen Besonderheiten der graphischen Handschrift Poignares und die von ihm verwendeten Motive bei Roland, Konzil von Basel, S. 190f.
Martin Roland
x
Sacrosancta generalis synodus Basiliensis in Spiritu Sancto legitime congregata universalem ecclesiam representans dilectis filiis .. abbati Cistercii eiusque coabbatibus et conventibus ac monasteriis universis ordinis Cisterciensis salutem et omnipotentie Dei benedictionem. Cum a nobis petitur, quod iustum est et honestum, tam vigor equitatis quam ordo exigit rationis, ut id per ministerium nostrum, quo universali ecclesie afficimur, ad debitum perducatur effectum. Sane pro parte vestra nobis fuit humiliter supplicatum, quatenus vobis et ecclesiis ac monasteriis vestris super privilegiis, indulgentiis, bonis, libertatibus, immunitatibus, consuetudinibus honestis et prescriptis dudum vobis concessis, ut illibata permaneant, robur nostre confirmationis et renovationis adiicere de benignitate nostra dignaremur. Nos igitur, qui pro tuicione et defensione ecclesiarum, bonorum et consuetudinum prescriptarum ac personarum ecclesiasticarum ferventer laboramus, huiusmodi supplicationibus inclinati omnes libertates, gratias, immunitates, prerogativas, consuetudines laudabiles et prescriptas indulgentias, bona, privilegia et indulta a Romanis pontificibus per apostolicas aut alias quascunque litteras vobis et ecclesiis ac monasteriis vestris predictis concessas et concessa necnon libertates et consuetudines laudabiles, exemptiones et salvasgardias secularium exactionum a quibuscunque divis imperatoribus, regibus, principibus vel aliis Christifidelibus vobis et eisdem vestris ecclesiis ac monasteriis indultas, datas et concessas tenores omnium habentes presentibus pro expressis, sicut ea iuste et pacifice possidetis, vobis et eisdem vestris ecclesiis ac monasteriis auctoritate nostra confirmamus illasque et ea renovamus et presentis scripti patrocinio communimus. Nulli ergo omnino hominum liceat hanc paginam nostre confirmationis, renovationis et communitionis infringere vel ei ausu temerario contraire. Si quis autem hoc attemptare presumpserit, indignationem omnipotentis Dei et universalis ecclesie se noverit incursurum. Datum Basilee x Kl. Marcii anno a nativitate Domini millesimo quadringentesimo tricesimo quinto (nach monasterium.net).
Places
Basel
Basel
HRR (Kurie)
Schweiz
Keywords
Illuminated Charters: Niveaus:

N2: Display script (with decorative character)
x
A click on the button »Show annotation« displays all annotations on the selected charter image. Afterwards you are able to click on single annotations to display their metadata. A click on »Open Image Editor« opens the paleographical editor of the Image Tool.