Charter
: Urkundenbuch des Landes ob der Enns, 1856 (Google data)  CLXIII.
The transcription and metadata of this charter are scanned by a OCR tool and thus may have low quality.
Add bookmark
Edit charter (old editor)
99999999
1148. 30. März. Remis. — Papst Eugen III. bestätigt dem Kloster Nieder altach unter andern Besitzungen auch die Weingärten zu Schönhering und Ottensheim.
Source Regest: Urkundenbuch des Landes ob der Enns, Nr. CLXIII. , S. 255
ed.
Current repository
: 
Urkundenbuch des Landes ob der Enns, Nr. CLXIII. , S. 255
Graphics: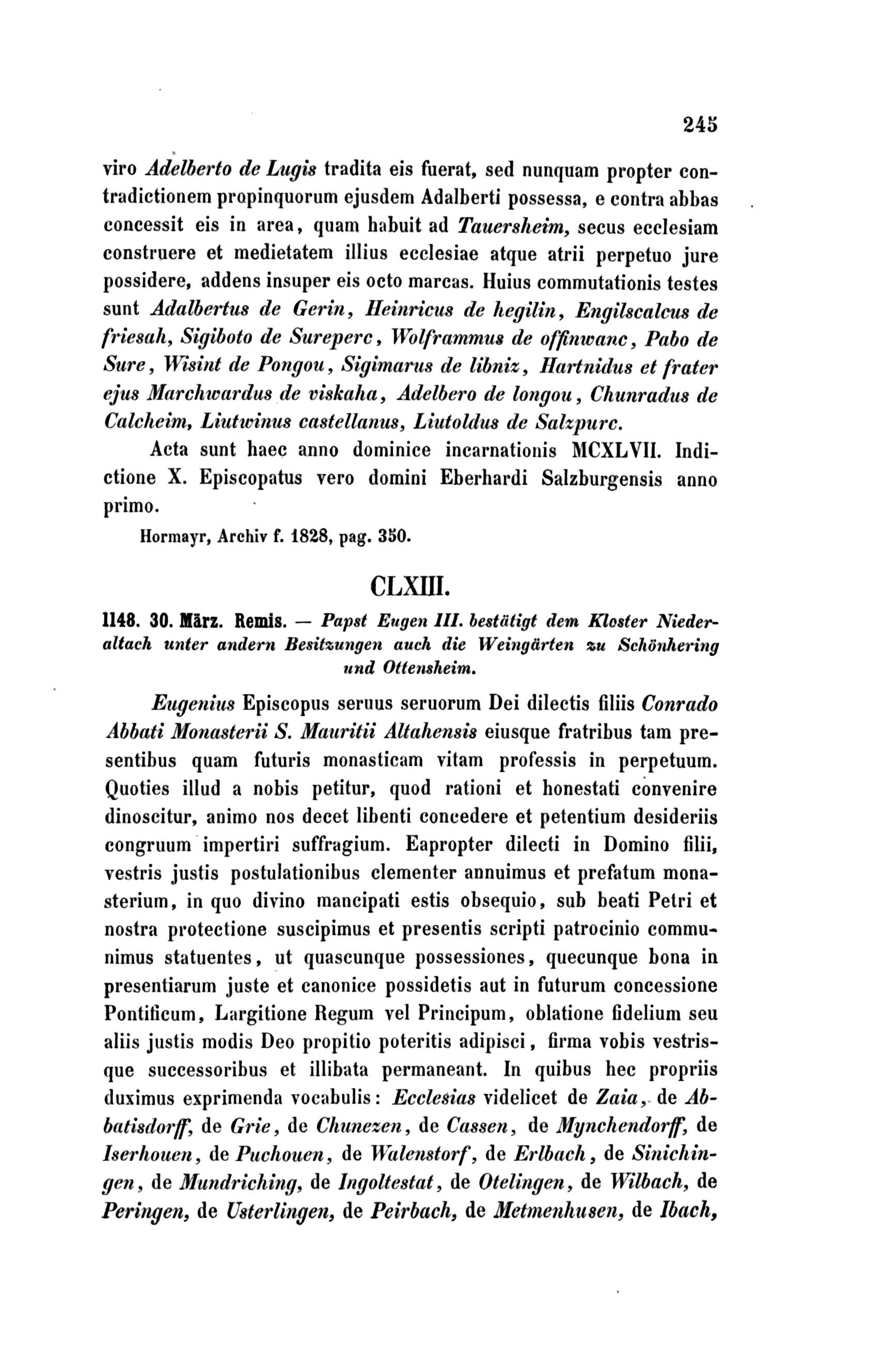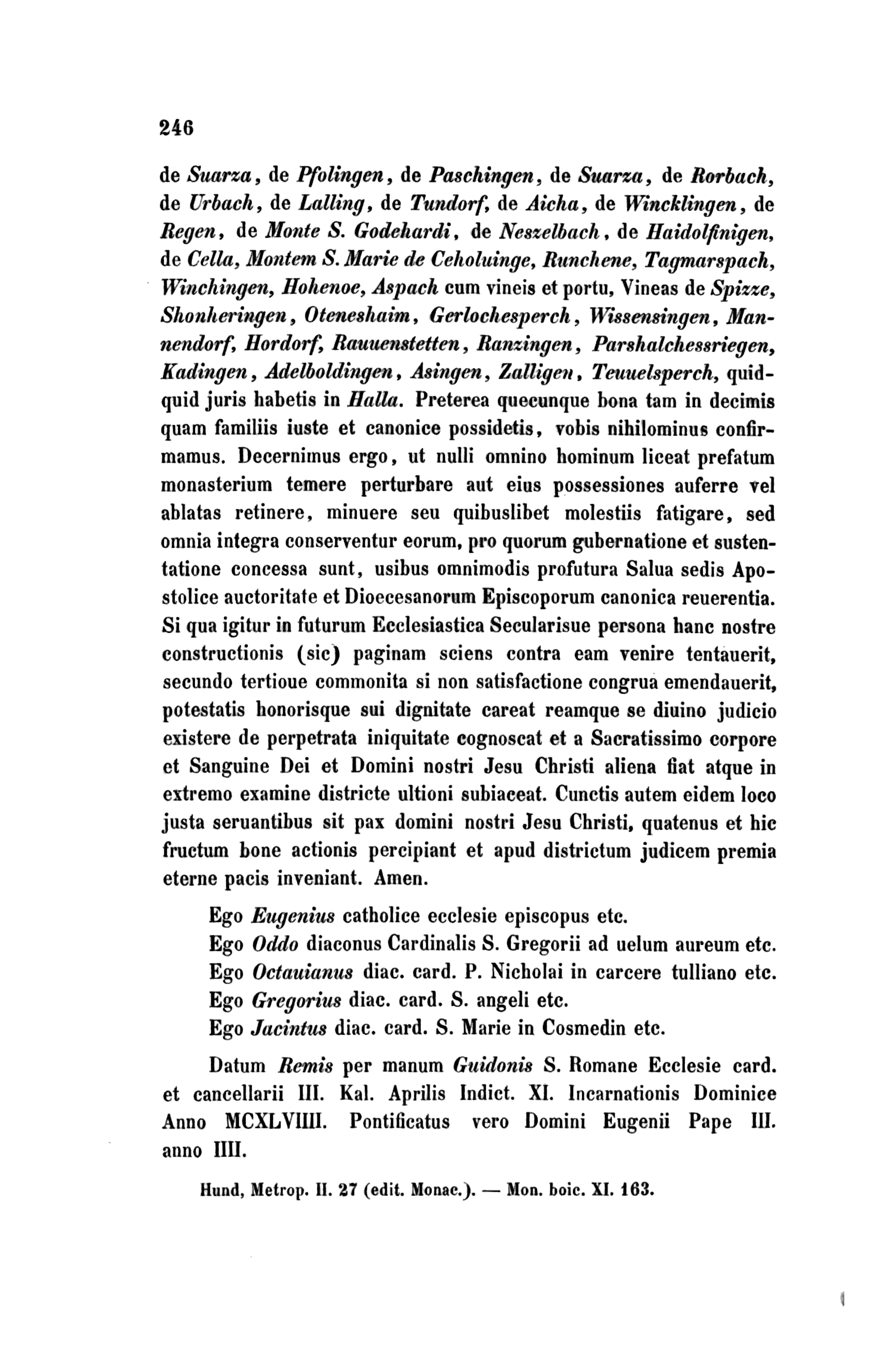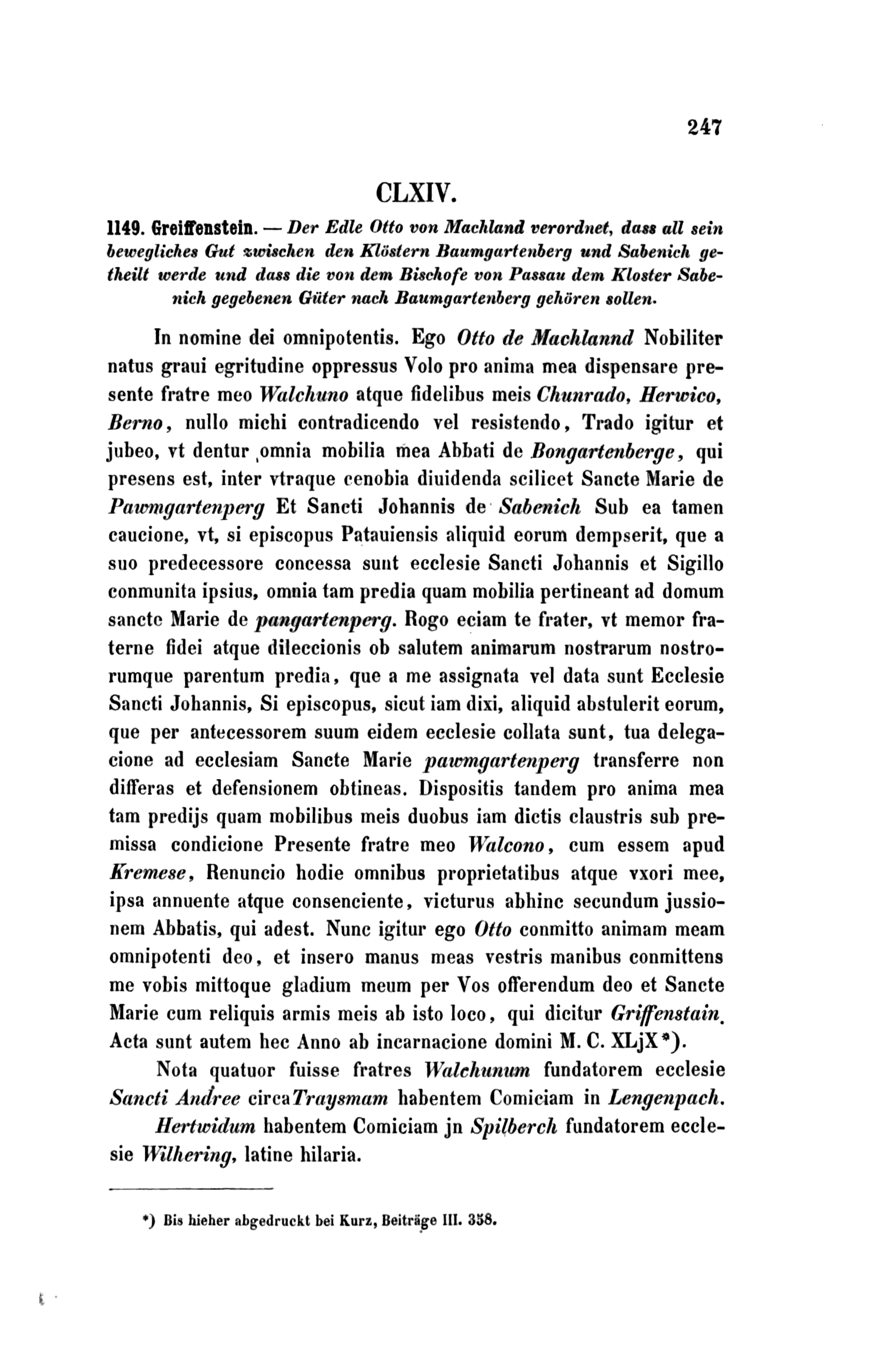 x
CLXIII.
Eugenius Episcopus seruus seruorum Dei dilectis filiis Conrado Abbati Monasterii S. Mauritii Altahensis eiusque fratribus tam pre- sentibus quam futuris monasticam vitam professis in perpetuum. Quoties illud a nobis petitur, quod rationi et honestati convenire dinoscitur, animo nos decet libenti concedere et petentium desideriis congruum impertiri suffragium. Eapropter dilecti in Domino filii, vestris justis postulationibus clementer annuimus et prefatum mona- sterium, in quo divino mancipati estis obsequio, sub beati Petri et nostra protectione suscipimus et presentis scripti patrocinio commu- nimus statuentes, ut quascunque possessiones, quecunque bona in presentiarum juste et canonice possidetis aut in futurum concessione Pontificum, Largitione Regum vel Principum, oblatione fidelium seu aliis justis modis Deo propitio poteritis adipisci, firma vobis vestris- que successoribus et illibata permaneant. In quibus hec propriis duximus exprimenda vocabulis: Ecclesias videlicet de Zaia, de Ab- batisdorjf, de Grie, de Chunezen, de Cassen, de Mynchendorjf, de Iserhouen, dePuchouen, de Walenstorf, de Erlbach, de Sinichin- gen, de Mundriching, de Ingoltestat, de Otelingen, de Wilbach, de Peringen, de Usterlingen, de Peirbach, de Metmenhusen, de Ibach,
246
de Suarza, de Pfolingen, de Paschingen, de Suarza, de Rorbach, de Urbach, de balling, de Tundorf, de Aicha, de Wincklingen, de Regen, de Д/owfe S. Godehardi, de Neszelbach, de Haidolfinigen, de CeMa, Montem S. Marie de Ceholuinge, Runchene, Tagmarspach, Winchingen, Hohenoe, Aspach cum vineis et portu, Vineas de Spizze, Shonheringen, Oteneshaim, Gerloehesperch, Wissensingen, Man- nendorf, Hordorf, Rauuenstetten, Ranzingen, Parshalchessriegen, Kadingen, Adelboldingen, Asingen, Zalligen, Teuuelsperch, quid- quid juris habetis in Halla. Preterea quecunque bona tam in decimis quam familiis iuste et canonice possidetis, vobis nihilominus conlir- mamus. Decernimus ergo, ut nulli omnino hominum liceat prefatum monasterium temere perturbare aut eius possessiones auferre vel ablatas retinere, minuere seu quibuslibet molestiis fatigare, sed omnia integra conserventur eorum, pro quorum gubernatione et susten- tatione concessa sunt, usibus omnimodis profutura Salua sedis Apo stolice auctoritate et Dioecesanorum Episcoporum canonica reuerentia. Si qua igitur in futurum Ëcclesiastica Secularisue persona hanc nostre constructions (sic) paginam sciens contra eam venire tentauerit, secundo tertioue commonita si non satisfactione congrua emendauerit, potestatis bonorisque sui dignitate careat reamque se diuino judicio existere de perpetrata iniquitate cognoscat et a Sucratissimo corpore et Sanguine Dei et Domini nostri Jesu Cbristi aliena fiat atque in extremo examine districte ultioni subiaceat. Cunctis autem eidem loco justa scruantibus sit pax domini nostri Jesu Christi, quatenus et hic fructum bone actionis percipiant et apud district um judicem premia eterne pacis inveniant. Amen.
Ego Eugenius catholice ecclesie episcopus ete.
Ego Oddo diaconus Cardinalis S. Gregorii ad uelum aureum etc.
Ego Octauianus diac. card. P. Nicholai in carcere tulliano etc.
Ego Gregorius diac. card. S. angeli etc.
Ego Jacintus diac. card. S. Marie in Cosmedin etc.
Datum Remis per manum Guidonis S. Romane Ecclesie card, et cancellarii III. Kal. Aprilis Indict. XI. Incarnationis Dominice Anno MCXLVIIII. Pontificatus vero Domini Eugenii Pape III. anno IIII.
Hund, Metrop. II. 27 (edit. Monac.). — Mon. boic. XI. 163.
247
A click on the button »Show annotation« displays all annotations on the selected charter image. Afterwards you are able to click on single annotations to display their metadata. A click on »Open Image Editor« opens the paleographical editor of the Image Tool.