Charter
: Illuminierte Urkunden - Lombardei-it 1494-01-28_London
Signature
: 1494-01-28_London
Atto non datato rogato da Stefano Gusperti notaio di Cremona e cancelliere ducale:
Ludovico Maria Sforza (il Moro) consegna alla moglie Beatrice d´Este proprietà nei territori di Novara, Pavia e Milano.
Source Regest: FWF Projekt P 26706-G21 "Illuminierte Urkunden"
Original
Current repository
: 
London , British Library , Ms. Add. 21.413
Graphics: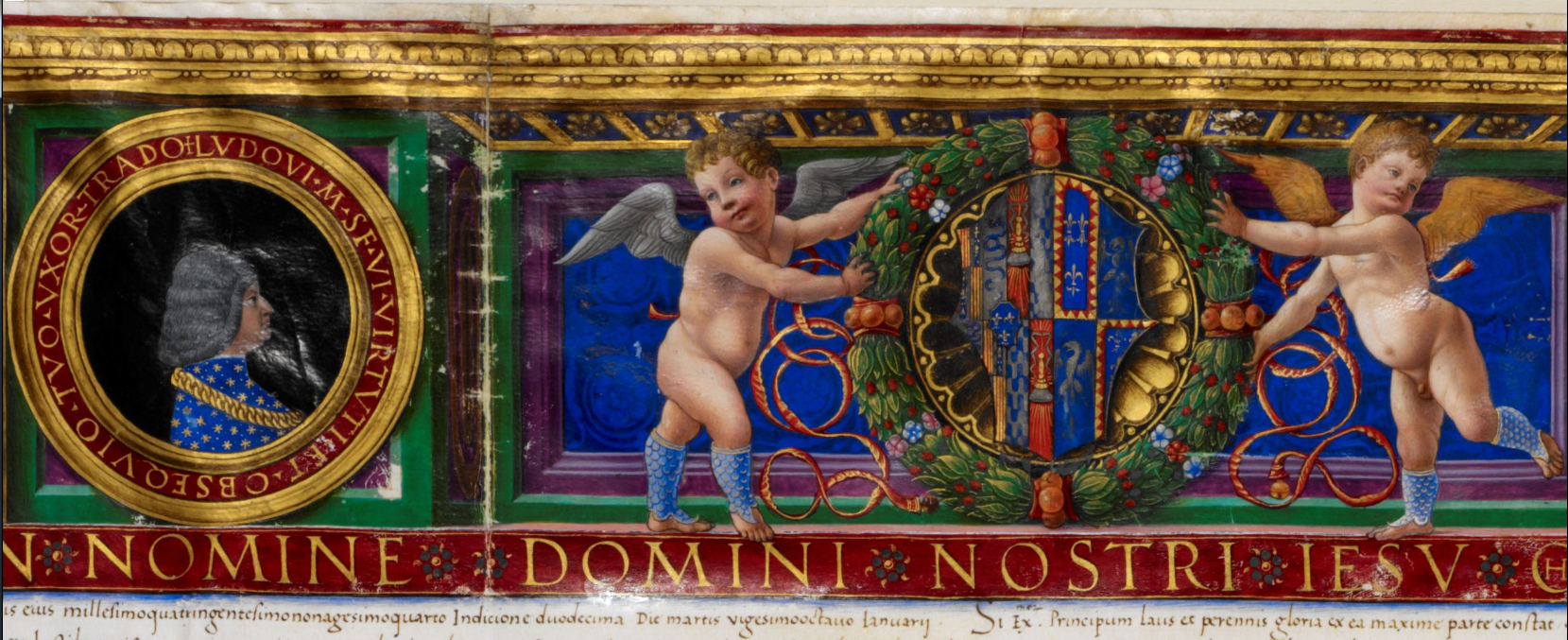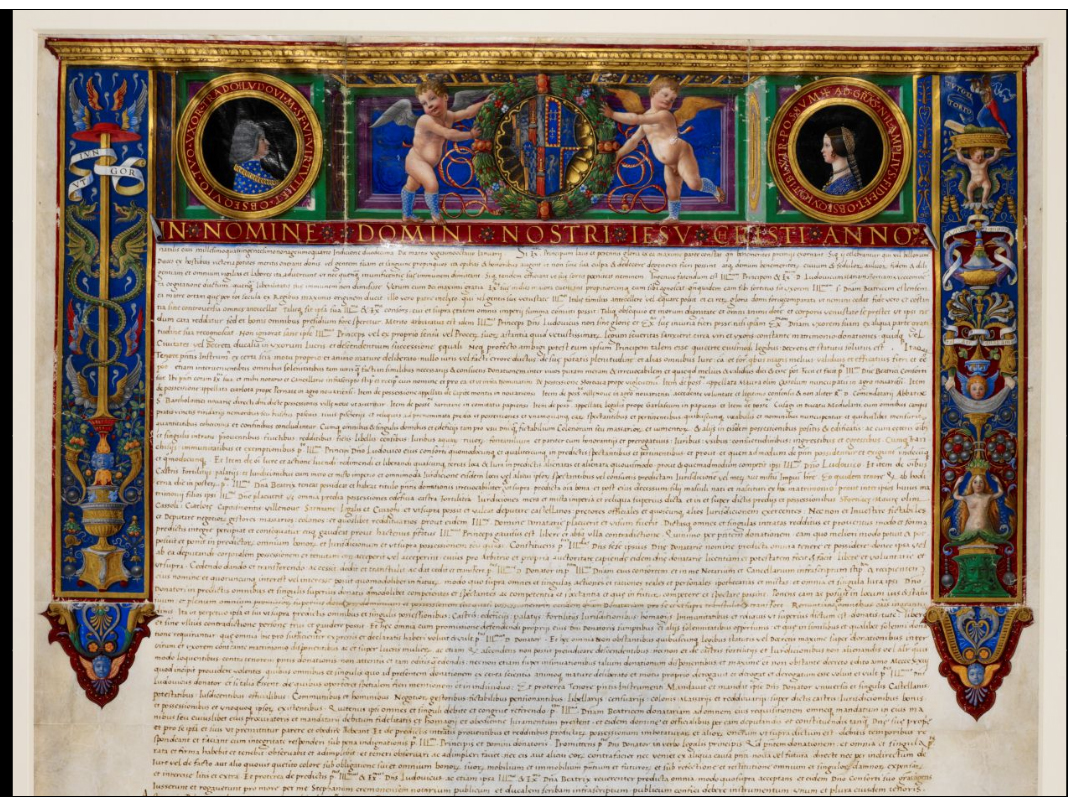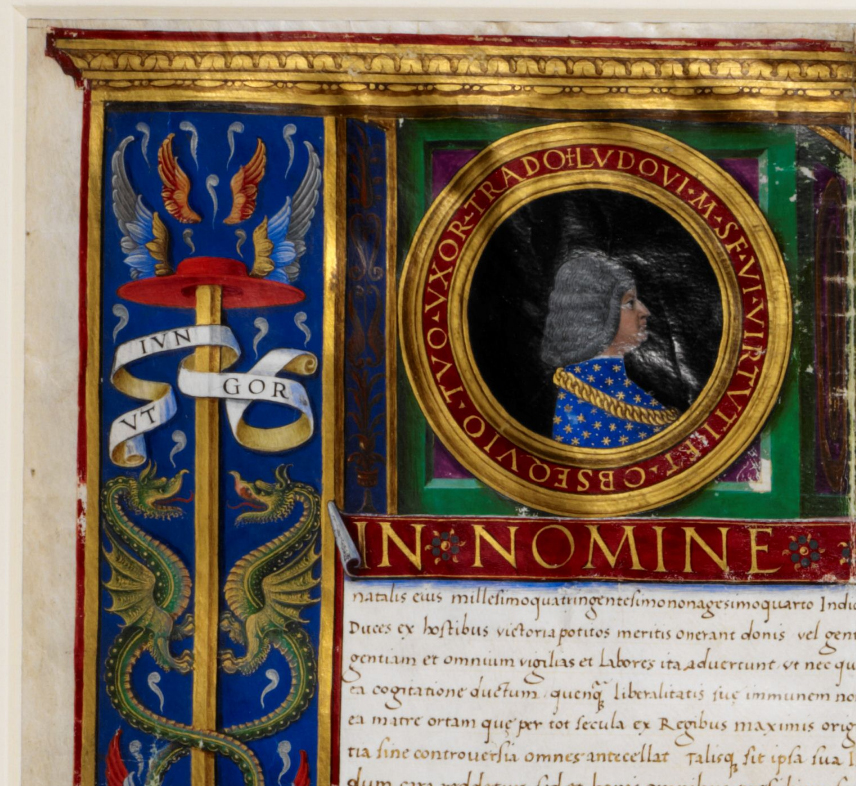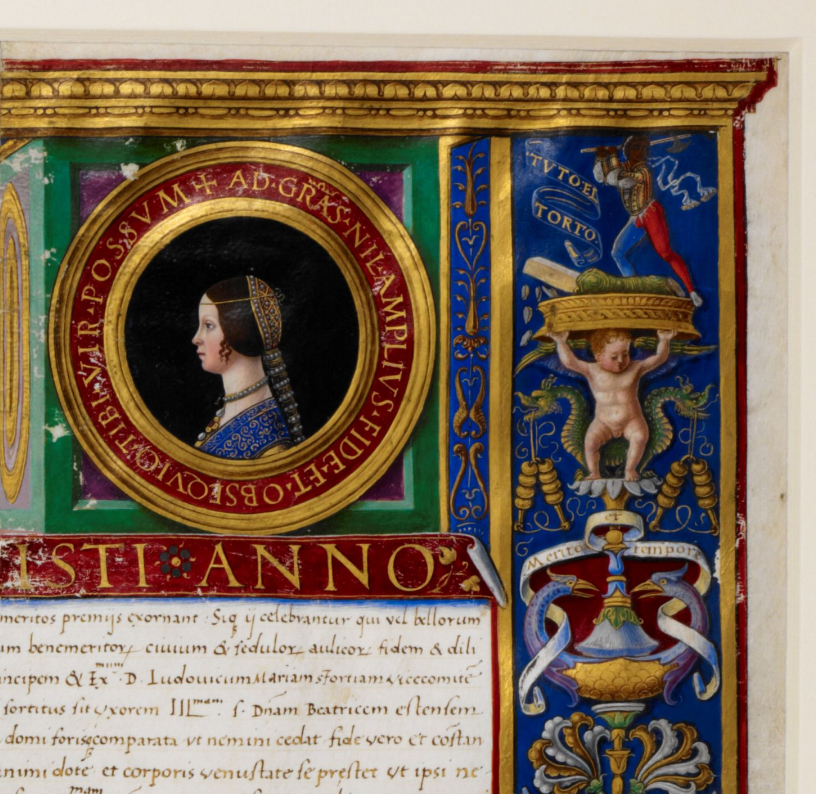 x
Materielle Beschreibung: 



Diploma ducale con importante decorazione miniata che forma un fregio architettonico su tre margini della carta. Sul lato sinistro su un fondo azzurro si susseguono motivi a candelabra formati da vasi, cornucopie e mascheroni che accompagnano l'impresa del caduceo e il motto "ut iungor", mentre su quello destro il motivo a candelabra si accompagna a raffigurazioni di gioielli, putti, cherubini e alle imprese della scure con il motto "tuto el torto", della scopetta con il motto "merito et tempore" e del morso. Sul margine superiore due clipei racchiudono i profili di Ludovico il Moro e Beatrice d'Este, mentre al centro entro uno spazio prospettico con soffitto a cassettoni due angeli sorreggono lo stemma inquartato dei due coniugi, posto entro una ghirlanda. La prima riga di testo è scritta in lettere capitali oro su fondo rosso.

Stil und Einordnung: 


L'autore di questo bel diploma era stato in un primo momento riconosciuto in Giovan Pietro Birago, uno dei miniatori più famosi della Milano a cavallo tra Quattro e Cinquecento, un'attribuzione ormai non più condivisa dalla critica storico-artistica (J.W.Bradley, A Dictionary of Miniaturists, Illuminators, Calligraphers , III, Londra 1889, p. 230; George F. Warner, Miniatures and Borders from the Book of Hours of Bona Sforza, Duchess of Milan in the British Museum , Londra 1894, pp. XXVII-XX). L'artista all'opera nel diploma è stato in seguito identificato in quell'anonimo maestro denominato "Maestro delle Ore Sforza", un collaboratore del Birago del quale recentemente è stato possibile ricostruire personalità e corpus di opere (sul maestro vedi Cristina Quattrini in ad vocem ' Maestro delle Ore Sforza', in Dizionario biografico dei miniatori italiani, 2004, pp. 575-576). Tale attribuzione si deve a Cristina Quattrini (Quattrini, rec. a M. Evans, The Sforza Hours , «Prospettiva», 75-76, 1994, pp. 187-191) e l'esecuzione del diploma si colloca esattamente in contemporanea a quella dell'Offiziolo eseguito per Bona di Savoia, moglie di Galeazzo Maria Sforza e madre di Gian Galeazzo (Londra, British Library, Add. 34294), opera eponima del maestro.
Laura Alidori
x
Bibliography
: 
Wattenbach, Schriftwesen, 1896, S. 221. ( Volltitel auf Zotero )
Erwähnt bei Radocsay, Renaissance-Urkunden, 1967, S. 224, unter Bezugnahme auf British Museum, Reproductions, 1907-1965, Serie 4. 1928, S. 16 und Tafel 45.
Pellegrin, Bibliothèque, 1955, S. 410–412, bes. S. 410 (mit älterer Lit.). ( Volltitel auf Zotero )
Pellegrin, Bibliothèque, Suppl. 1969, S. 49 und Falttafel 161. ( Volltitel auf Zotero )
http://www.bl.uk/manuscripts/FullDisplay.aspx?ref=Add_MS_21413 (Beschreibung; bitte in gesondertem fenster öffnen)
Keywords
Illuminated Charters: Niveaus:

N1: with Additional Colours
x
A click on the button »Show annotation« displays all annotations on the selected charter image. Afterwards you are able to click on single annotations to display their metadata. A click on »Open Image Editor« opens the paleographical editor of the Image Tool.