Charter
: Illuminierte Urkunden 1372-09-28_Paris
Signature
: 1372-09-28_Paris
1372-09-28,
Paris, château du Louvre ("Donné en nostre chastel du Louvre, à Paris")
Ratification par Charles V du testament de son frère, Louis Ier d'Anjou. Le roi Charles V ("Charles, par la grace de Dieu, roy de France") ordonne ("voulons et ordennons"), invoquant sa grâce, volonté et puissance royale ("de nostre grace especial, puissance et auctorité royal"), que le testament ("son testament ou ordennance pour sa derreniere volenté") de son frère Louis Ier d'Anjou ("notre tres amé frere Loys duc d'Anjou, conte du Maine, sire de Guise") et les dispositions prises pour l'exécution dudit testament ("l'execucion de son dit testament") ne soient pas empêchés ou retardés à la mort de son frère ("fust aucunement empeschiee ou retardee"), mais que le testament soit exécuté sans tarder ("sans attendre"). Le roi précise que ledit testament concerne les biens meubles et immeubles acquis par son frère ("en ses biens moibles et immoibles") ainsi que les revenus qu'il en tire pour une durée de trois ans ("proffiz et emolumens de trois annees"). Le roi abandonne ("nous lui donnons, quittons et remettons") les droits ("droit, accion ou demande") que lui et ses successeurs ont ou pourraient avoir sur ces biens. Le roi veut ("nous voulons") que les officiers royaux ("eagens, officiers, baillifs, seneschaux ou commaires") n'interviennent pas dans cette affaire mais seulement les exécuteurs testamentaires nommés par son frère ("mais les diz executeurs").
ANF et Jonathan Dumont.
Source Regest: FWF Projekt P 33577-G "Macht und Diplomatie"
Bearbeitungsstand: HOCH
Original
Current repository
: 
Paris, Archives nationales, P 1334/17/A, no 36
Graphics: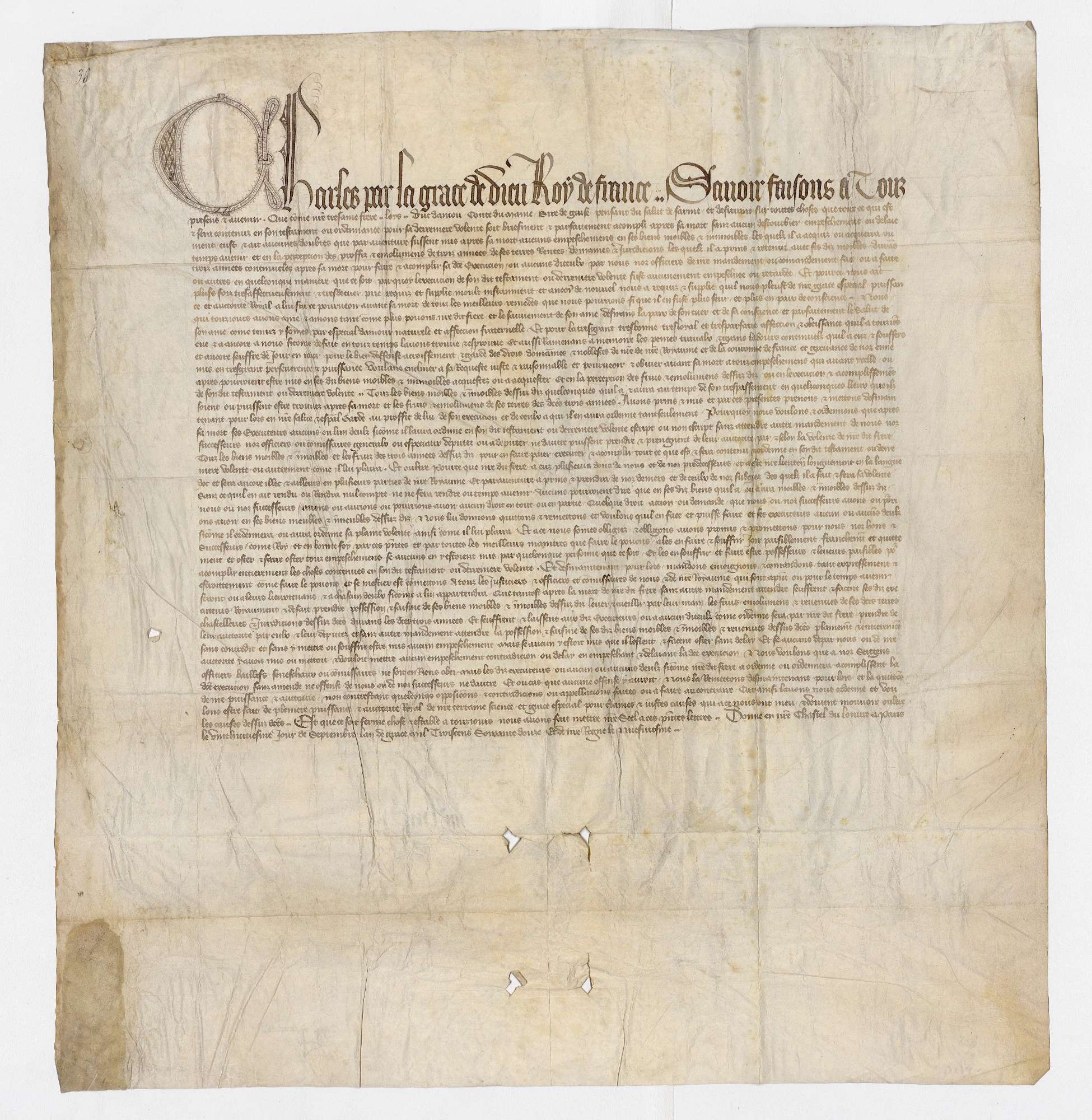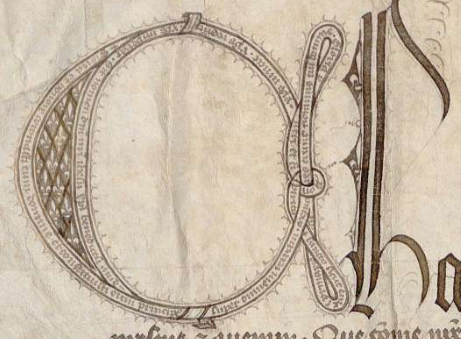 x
C(harles) sehr stark vergrössert, als rechts endlos geknotetes Schriftband (Text ist lesbar - siehe die Transkription von Jonathan Dumont), im Bogen Fleurs-de-lys semées, begleitet von Bogenlinien innen und aussen. Am Schaft des (C)h(arles) zwei aus einer halben Raute ausgesparte halbe Fleurs-de-lys. Die Folgebuchstaben der ersten Zeile in Auszeichnungsschrift. Drei Perlen mit Punktverdickungen, Kreis und Kern bezeichnen auf der Plica den Ort der Siegelanbringung.

Stil und Einordnung: 


Diese Urkunde kann als programmatischer Beleg für den bewussten Einsatz von Dekorationsmitteln bei Urkunden dienen.
Offensichtlich haben beide Parteien diese Form der Kommunikation verstanden und beherrscht. Auch das Testament von Louis II d'Anjou ist mit grosser Kunstfertigkeit dekoriert worden.
Gabriele Bartz
x
Comment
Inscription dans la lettrine C. Texte extérieur en partant de la gauche dans le sens inverse des aiguilles d'une montre : "Gloria et honore coronasti eum domine (Ps 8, 7 : "Et tu l'as couronné de gloire et de magnificence") et constituisti eum principe super omnem terram. Memores erunt nominis tui Domine" (Ps 45, 16-17 : "Tu les établiras princes dans tout le pays. Je rappellerai ton nom dans tous les âges"). "Gloria Pater et Filio et Spiritui sancto sicut erat in principio, etc." Texte intérieur en partant de la gauche dans le sens inverse des aiguilles d'une montre : "Christus vincit. Christus regnat. Christus imperat. Sit nomen Domini nostri Jhesu Christi benedictum a nostre".
Original dating clause: 28 septembre 1372 ("[…] le vint huitiesme jour de septembre l'an de grace mil trois-cens soixante-douze").
Mention de l'apposition du sceau royal ( Est que ce soit ferme chose et estable à touzjours nous avons fait mettre nostre scel à ces presentes lettres. ). Il y a quatre trous présents en bas du document pour fixer le sceau. Sur le repli, on découvre la mention "Par le roy" et la signature du secrétaire ("Jabarin" ?).
Language
: 
Français
Places
Paris, château du Louvre ("Donné en nostre chastel du Louvre, à Paris")
Keywords
Illuminated Charters: Niveaus:

N2: Display script (with decorative character)

N2: Depictive motives (not historiated)

General: 

Fleur-de-lys Fleurs-de-lys
Plicadekoration Siegelanbringung
x
A click on the button »Show annotation« displays all annotations on the selected charter image. Afterwards you are able to click on single annotations to display their metadata. A click on »Open Image Editor« opens the paleographical editor of the Image Tool.