Charter
: Urkunden (1173-1846) 1459 III 15
Add bookmark
Edit charter (old editor)
Wojtěch von Gywowitz, gesessen zu Chwalkow, verkauft dem Abte Paul und dem Convente zu Hohenfurt einen jährlichen Zins von zwei Schocken und etlichen Groschen im Dorfe Kramolin um 38 Schock Prager Silbergroschen.
Source Regest: PANGERL, Stift Hohenfurth (=FRA II/23, Wien 1865) S. 294, Nr. 237
orig.
Current repository
: 
Cisterciácký klášter Vyšší Brod (http://www.klaster.vyssibrod.cz)
Seal

: 

Vier kleine, an Pergamentstreifen hängende Siegel in schwarzem Wachs.,a) Ein Schild und Helm mit dem Brustbilde eines schwertschwingenden Mannes - Woitiech Givovice?,b) Ein Schild mit drei aus einem Kopfe entspringenden Pfauenfedern, darüber ein Helm mit hirschgeweihartiger Zierde. - S. Vlrici . Haracher.,c) Ein Schild mit den drei Pfauenfedern der Haracher. - S . Marcward . Z . Hrzebene.,d) Ein Schild mit drei neben einander aufrecht siehenden Fischen. - Sigillvm . Nicolai . De . Holkow.
Graphics: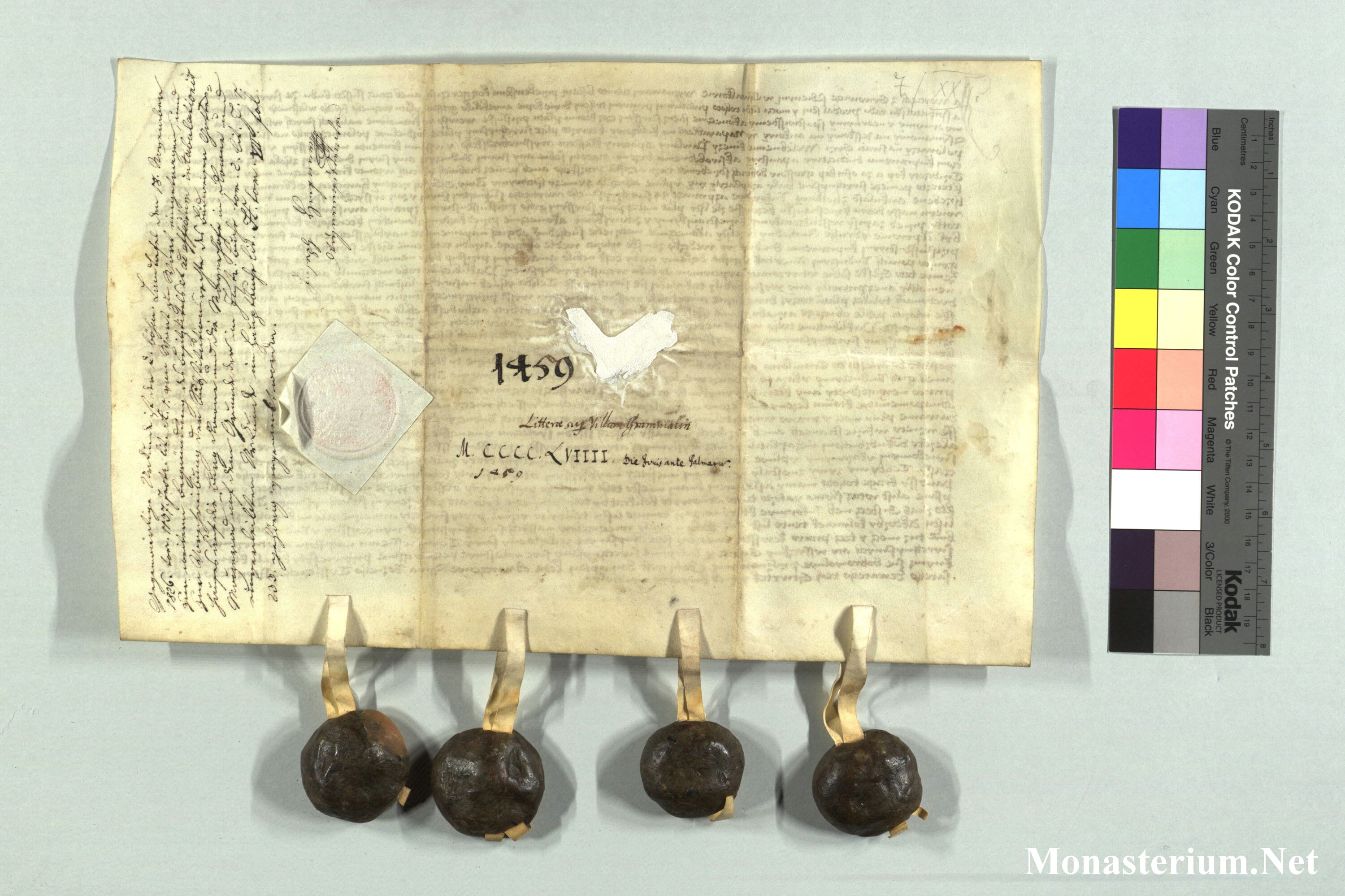 x
Ja Woytiech z Gywowycze sedienym w Chwalkowie wyznawam tiemto listem przidewssemei, ktoz gey czisti aneb cztucz slisseti budu, ze swym dobrym rozmyslem a s prziatelsku radu prodal sem y moczi listu tohoto prodawam prawym trhem dwie kopie a nyekoliko grossow platu rocznieho sweho wlastnielio slessy spotoky, z diedynamy ornymy y neornymy, spastwiesstiemy a koneeznie stiemsewssym,czoz ktomu platu przislussie we wsy w Kramolynie na lideeh swych wlastnich na Blahowy, na Ssymanowi, na Jesskowi, na Mikowy w Napayadlech, na Kubczowy, kteryzto plat swrchupsany platie rozdielnye, polowiczy toho na swaty Hawel a druhu polowiczy na swaty Gyrzi, welebnemu kniezyPawlowy opatowy klasstera Wyssnyobrodskeho y wssemu koauentu mynyeyssym y gich buduczym diedyczom ku prawemu diedictzwy a panstwy a k swobodnemu drzeny, na tom sobie any swym buduezym any swym diediczom z hola nicz nezostawugy za rzidezety kop a za osm kop grossow dobrich strziebrnich razu a czisla Prazskeho, aneb peniez drobnich dobrich w tumto kragi obecznie mezy lidaiy bernych, kterezto penieze swrchupsane daly a zaplatyly my vplnie a doezela peniezy hotowymy. A my Oldrzich rzeczeny Haracherz z Olbramow, Markwarth z Hrzebene, Mikulass z Holkowa rukoymye a zprawcze za swrchupsaneho Woytiecha slibugem snym y zan wssyczkny spolecznu ruku a nerozdielnu, wieru nassy dobru kziestiansku bezewssie zle lsty plat nadepsany se wssym geho przislussenstwym zprawiti a wiswoboditi przied wyeny przied syrotky, przied zapisy wsseiikterakymy krziestianskymy y zidowskymy a koneeznie przied kazdym czlowiekem, kterehozby kolywiek rziadu aneb sfawu byl a prvvnie y druhe suche dny bezelsty a koneeznie na trzietie suche dny od gich napomenutye nablyzssich ten plat swrchupsany se wssym geho przislussenstwym ku prawemu diedieztwy wedezky zemske wloziti wedle obiezege a rzadu teto zemie Czeske swrchupsanymwierzitelom nassym gym y po nich buduczym, aneb tak vgistiti dezkamy, aczby desk nebilo, aneb k nym przistup byty nemohl, yakoz tudoba pany rytierzy a panosse zemye teto Czeske sobie vtwrzowaty a vpewniowaty budu w czassu prziedepsanem. Paklibichme toho nevczinily, a czastopsaneho platu zprawyty nemohly a nezprawily any wyswobodily tak yakoz sie swrchupisse, tehda y hned na swich wlastnich swobodnych a dobrzie osedlich a tak dobrych dyedynach tolikez platu, toczyz dwie kopie a nyekoliko grossow a trzietynu wysse przyczyniecze stupiti namy a slibugem, a ty take wedczky zemske wloziti podle obiczege a rziada zemie Czeske, aneb tak vpewniti a vdwrdyty aezby desk nebilo, aneb knym przistup byty nemohl, yakoz sie swrchupisse. Psklibichme toho wsseho nevczinili, .czoz swrchupsano stogi, tehdy geden z nas rukoymy, kteryz nayprw napomenut bude wyerzitely nassymy swrchupsanymy nynyeyssymy aneb po nich buduczymy po slem aneb listem gich, geden na druheho nevkazuge, any sie druhym wymluwage, ma wgety sam swym zywotem, s gednyem pacholkem a se dwyerna konioma aneb miesto sebe panossy rziadu rytierzskeho poslaty do miesta do Crumlowa, aneb do Budyeyowicz do domu eztneho hospodarzie tu, kdezby nam bilo wierzitely nassymy swrchupsanymy, aneb gich buduczymy vkazano, w obiczeyne lezenie, kterez zemie Czeska za prawo ma, a tu vstawicznie mame lezety, a odtud na nyzadne prawo newigezdiety, any kterak wynyknuty, gelizbichom to wsseczko vczinily, czoz swrchupsano stogi. A kdyzby mynule dwie nyediely od napomenuttye k tomu lezeny, bud lezano neb lezano, a kdyzbichme wssiech wieczy nadepsanieh skutecznie nenaplnyly, tehdy y hned dawame plnu mocz y prawo wierzitelom swym nadepsanym gym y gich buduczym penieze gistynne swrchupsane y s trzietynu wysse wziety w Krziestianech aneb w Zidech na nassy wssech sskodu spolecznu, y na nassie zbozie, a prziesto wzdy w tom lezeny mame trwati a lezety, dokudzbichom nezaplatili peniez gystynnych a trzietynu wysse y se wssemy sskodamy pro nassie nesplnyenye wzetymy a dobrym swiedomym vkazanymy vplnye a doczela peniezy hotowymy. A vmrziellyby ktery z nas gistecz neb rukoymye swrchupsany w tom czassu, tehdy my zywy zuostaly w gednom miesieczy nayblyzssym o tedne smrty toho vmrleho gyneho tak mowiteho a tak dobreho panossy krage tohoto mamy a slibugem k nam miesto teho vmrleho przistawyty, gesstoby podle nas slibil za wssieczky wieczy swrchupsane, a list w taz slowa, yakozto tento, obnowyty, kolikratby toho potrziebie bylo, a to pod lezenym swrchupsanym. A protywyllyby sie kto z nas gistecz neb rukoymye ktery w czom tomuto listu, ten by to vczinil proty swe czty a wierzie, ale ne ku pohorsseny tomuto listu. A kdozby kolywiek tento list miel z dobru woly wierzitelow nassych swrchupsanich nynyeyssich y buduczich, ten ma y miety bude tuz moez, y tiez prawo ke wssem wieczem swrchupsanym, yakozto ony samy. Torau wssiemu na gistotu a potwrzenye wieczy swrchupsanyeh my wssyczkny gistecz y rukoymie swrchupsany swe wlastnye peczety gsme przywiesyty kazaly k tomuto listu, knymz sie dobrowolnye przyznawame. Genz gest dan a psan leta od narozenye syna bozieho tyssiczieho czfyrzsteho padessateho dewateho ten cztwrtek przied kwyetnu nyedyely.
Source Fulltext: PANGERL, Stift Hohenfurth (=FRA II/23, Wien 1865) S. 294-296
A click on the button »Show annotation« displays all annotations on the selected charter image. Afterwards you are able to click on single annotations to display their metadata. A click on »Open Image Editor« opens the paleographical editor of the Image Tool.