Charter
: Urkunden (1188-1992) 1251
Add bookmark
Edit charter (old editor)
1251
Wichard, Edler von Tyrna einverleibt dem Stifte die Pfarre Fratting.
1
Source Regest: MAYER, Geras (= AÖG 2, 1849) S. 21, Nr. 8
orig.
Current repository
: 
Stiftsarchiv Geras (http://www.stiftgeras.at)
Material: 
Pergament
Graphics: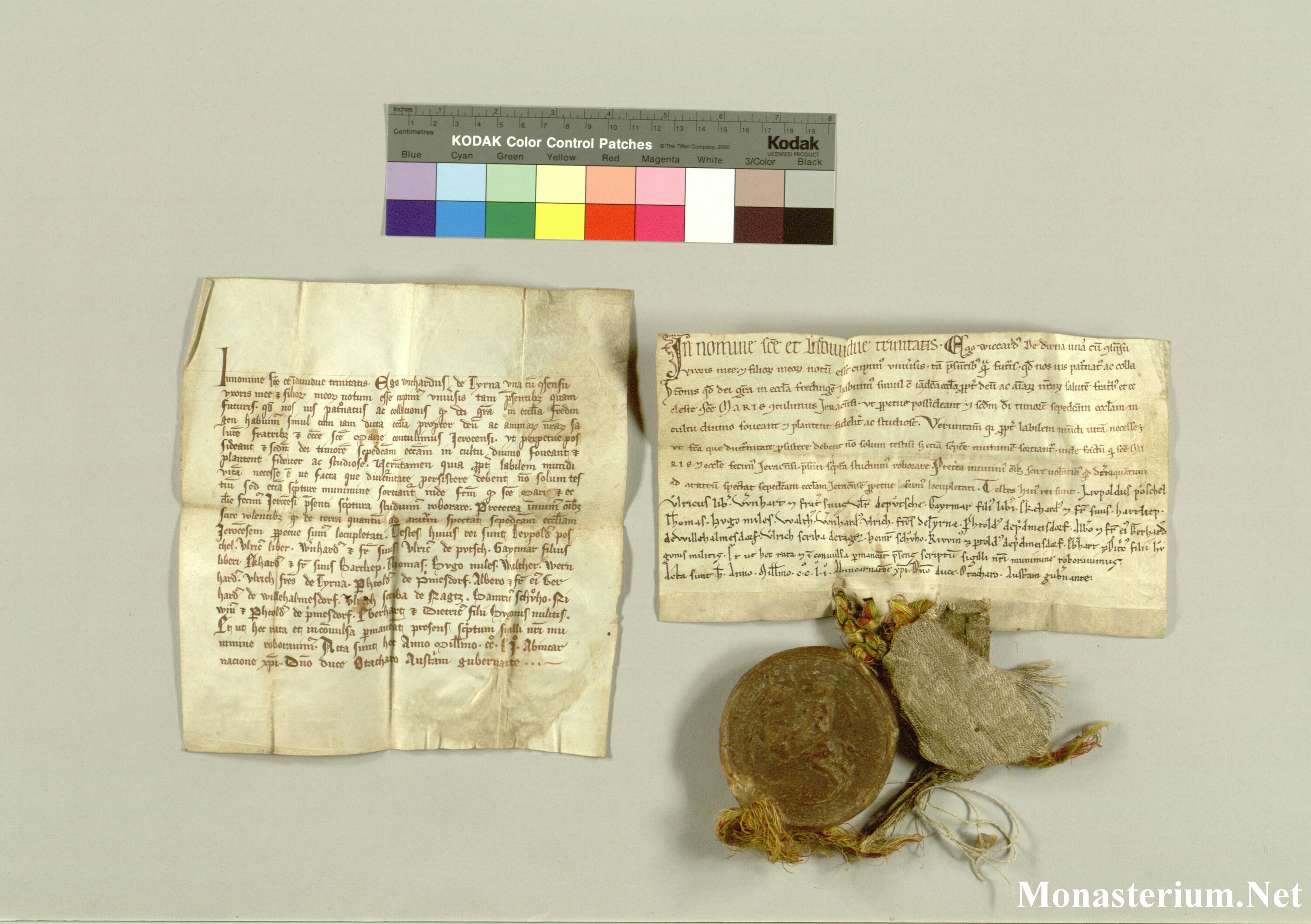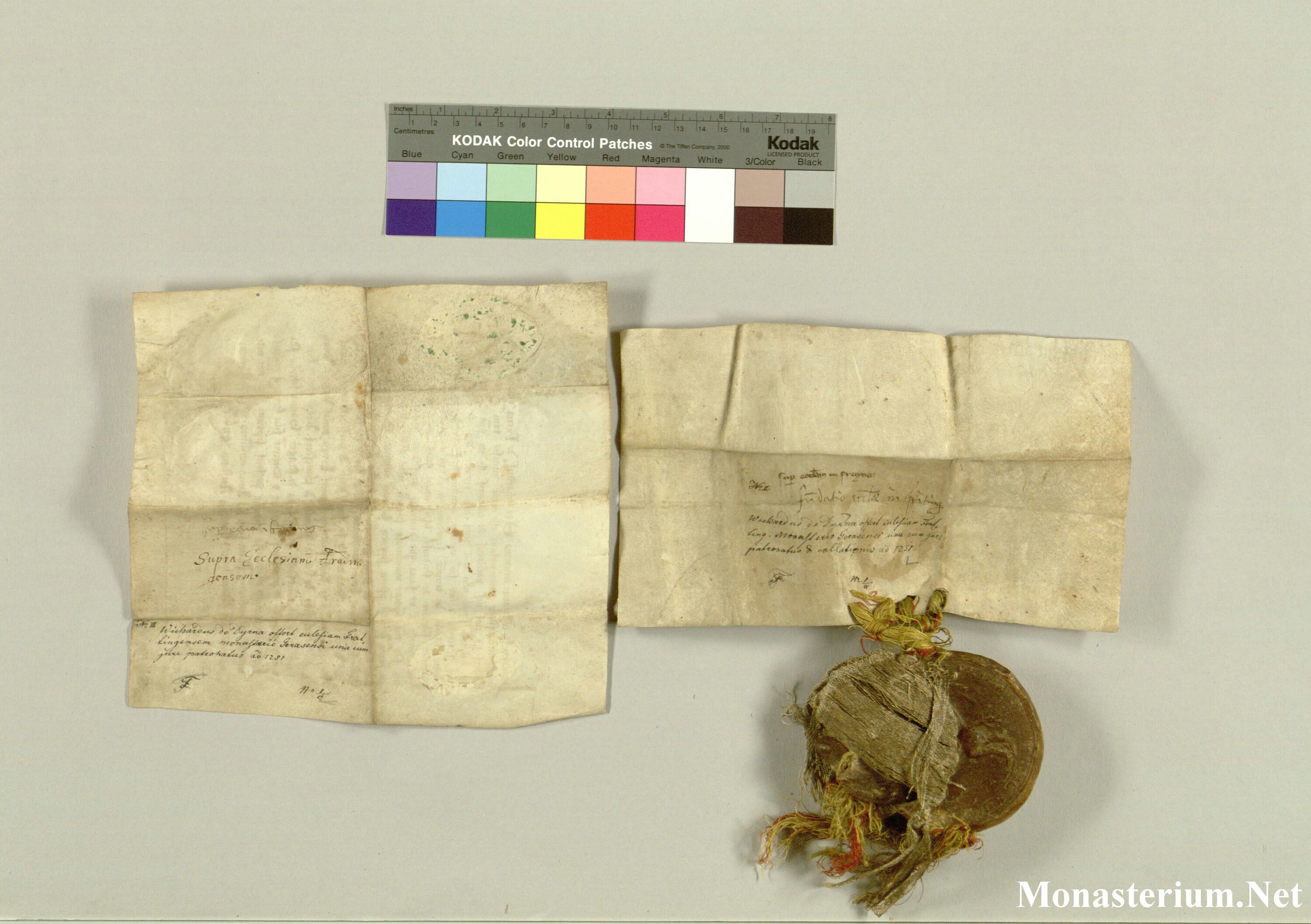 x
In nomine s. et i. T. Ego Wichardus de Tyrna una cum consensu uxoris mee et filiorum meorum notum esse cupimus vniuersis tam presentibus quam futuris, quod nos ius patronatus et collacionis, quod dei gratia in ecclesia Wratingen2 habuimus, simul cum iam dicta ecclesia propter deum et animarum nostrarum salutem fratribus et ecclesie Sancte Marie contulimus Jerocensi, vt perpetuo possideant et secundum dei timorem sepedictam ecclesiam in cultu diuino foueant et plantent fideliter ac studiose. Verumtamen quia propter labilem mundi uitam necesse est, vt facta que divturnitate persistere debent, non solum testium sed eciam scripture munimen sortiantur, inde factum quod Sancte Marie et ecclesie fecimus Jerocensi, presenti scriptura studuimus roborare. Preterea innuimus omnibus scire uolentibus, quod de terra, quantum ad aratrum spectat, sepedictam ecclesiam Jerocensem perpetue uolumus locupletari. Testes huius rei sunt Leupoldus Poschel. Vlricus Liber. Wernhardus et frater suus Vlricus de Putsche. Gaytmar filius Liberi. Ekchardus et frater suus Hartliep. Thomas. Hugo miles. Waltherus, Wernhardus, Vlricus fratres de Tyrna. Perhtold de Primeysdorf. Albero et frater eius Gerhard de Willehalmesdorf. Vlricus scriba de Ragtz3. Hainricus Schuoho. Riwin et Perhtold de Primeysdorf. Eberhard et Dietricus filii Hugonis militis. Et vt hec rata et inconuulsa permaneant, presens scriptum sigilli nostri munimine roborauimus. Acta sunt hec anno M. CC. LI. ab incarnatione Xti. Domino Duce Ottacharo Austriam gubernante4.
Source Fulltext: MAYER, Geras (= AÖG 2, 1849) S. 21-22, Nr. 8
Editions
: 
Marian S. 134
Boczek. III. 147
Language
: 
Latein
Notes
: 
1 Aus einer alten Abschrift.
2
Fratting, Mährisch Wrateny , an der Gränze gegen Oesterreich stattlich herüberschauend. Tyrna an der Gränze Österreichs, an der Thaya, mit der Ruine des Schlosses auf dem gleichnamigen Berge. Wichard von Tyrna erscheint in öffentlichen und Privatverhandlungen seiner Zeit häufig, er war 1254 unter den böhmischen Abgeordneten, welche zu Ofen zwischen Bela und Ottokar den Frieden verhandelten. Er starb 1265. Seine Frau
Wulfhilde
, und sein Schwiegersohn Johann von Dobran, Gemahl der Jutta, werden bei Boczek erwähnt (III. 269 und 376.).
3 So unsere Abschrift; bei Marian Rabez. Boczek hat Ratschitz. Dass Racz nicht Rez sondern Rabs, unterliegt weiter keinem Zweifel.
4 Da er zu Ende eben jenes Jahres die Gubernirung Österreichs antrat (die Deputation der österreichischen Stände kündigte das Endergebniss ihrer Verhandlungen dem König Wenzel den 21. November an, und schon am 9. Dezember traf Otokar von Enns aus in Wien ein) so ist diese Urkunde wohl im Dezember ausgestellt, und feiert das neue Ereigniss als eine Epoche.
Places
Buda (hte. Budapest/Ungarn)
Fratting (Vratenín, MÄ/CZ, GB Jemnice)
Geras, Prämonstratenserabtei
Pfarre Fratting (Vratenín, MÄ/CZ, GB Jemnice)
Primmersdorf (GB WT)
Raabs (GB WT)
Stiftskirche Geras
Thürnau, Ober-, Unter- (GB HO)
Wilhelmsdorf (abgekommen, Wilhelmshof, Gde. Weikertschlag, GB WT)
Persons
Albero von Wilhelmsdorf, Bruder des Gerhard von Wilhelmsdorf, Zeuge
Bertold von Primmersdorf, Bruder (?) des Riwin vom Primmersdorf, Zeuge
Bertold von Primmersdorf, Zeuge
Béla IV., König von Ungarn, (1235-1270)
Dietrich, Sohn des Hugo, Bruder von Eberhard, Zeuge
Eberhard, Sohn des Hugo, Bruder von Dietrich, Zeuge
Eckehard, Bruder des Hartlieb, Zeuge
Gaytmar, Sohn des Liber, Zeuge
Gerhard von Wilhelmsdorf, Bruder des Albero von Wilhelmsdorf, Zeuge
Hartlieb, Bruder des Eckehard, Zeuge
Heinrich Schuoho, Zeuge
Jutta von Oberthürnau, Frau Johanns von Dobra, Tochter Wichards von Oberthürnau
Leopold Poschel, Zeuge
Ritter Hugo, Zeuge
Riwin von Primmersdorf, Bruder (?) des Berthold von Primmersdorf, Zeuge
Schwiegersohn Wichards von Oberthürnau
Thomas, Zeuge
Ulrich Liber, Zeuge
Ulrich von (?), Bruder von Wernhard von (?), Zeuge
Ulrich von Oberthürnau, Bruder von Walter und Wernhard von Oberthürnau, Zeuge
Ulrich von Tyrna, Bruder von Walter und Wernhard von Oberthürnau
Ulrich, Schreiber von Raabs, Zeuge
Walter von Oberthürnau, Bruder von Wernhard und Ulrich von Oberthürnau, Zeuge
Wenzel I., König von Böhmen (1230-1253)
Wernhard von (?), Zeuge
Wernhard von Oberthürnau, Bruder von Walter und Ulrich von Oberthürnau, Zeuge
Wichard, Edler von Oberthürnau (gest. 1265), Aussteller
Wulfhilde, Frau Wichards von Oberthürnau
x
A click on the button »Show annotation« displays all annotations on the selected charter image. Afterwards you are able to click on single annotations to display their metadata. A click on »Open Image Editor« opens the paleographical editor of the Image Tool.